Getting the Right Fit
Gentlemen, there is no reason that your dress shoes shouldn't feel as good as they look.
Beside your bed, probably the next item you will be on it most of the time will be your work shoes, wearing them for an averagely 8-10 hours. And there is a common misconception suggests that dress shoes should be uncomfortable.
We at District One Label believe passionately that men dress shoes can be stylish and comfortable. Starting with thoughtful design, and meticulously handcrafts each pair with style and comfort. The next important factor in comfort is getting the right fit. Wearing shoes may be ubiquitous, but achieving a proper shoe fit is by no means widely understood.
Fortunately, finding the right dress shoe fit is relatively simple. First and foremost, measure for good measure. Have both of your feet measured, many of us have one foot that is slightly bigger, so from the measured length choose the shoe size that is the best fit for this foot. Refer to our Size Guide for your most suitable size.
How should shoes fit?

Try the shoes in the Afternoon or Evening. Your feet swell throughout the day, so it's best to try on the shoes when your feet are at their largest.
Try on with your usual Socks. The thickness of the sock will have a big impact on the fit of the shoe.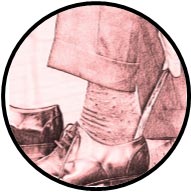 Use a Shoe Horn. Do not push your feet into the shoes, undo and loosen the laces adequately, the shoe horn will help to slide your foot into the shoe comfortably.
Getting the Right Shoe Fit. There should be enough room of 1cm to 1.50cm from your longest toe and the tip of your shoe.
Widest part of your foot should roughly match the widest part of the shoe.
Slide your index finger into the back of your heel, it should fit snugly, not too tight or loose, if your finger is impossible to fit, the shoes are too tight.
Some heel slippage is normal, but an excessive amount is a sign of a bad fit.
Dress shoes will stretch only marginally in width, and never in length. And it will stretch to the size of foot put inside the shoe; not gain a size bigger, so always wear the correct size and never a size smaller.
Ultimately, given the diversity of foot shapes and sizes, it's up to the wearer to recognize perfect shoe fit.